Application
Spherical Plain Bearings (or bushings) find a very wide range of uses in the following industries:
Heavy Equipment - earth moving equipment etc.
Material Handing - forklifts, loaders, telehandlers
Logging Machinery - all types
Mining Industry - all types of trailers and shuttle equipment
Ultra Heavy Duty Off Road Vehicles
Hydraulic Industry - cylinder and piston ends
Wind Generating Machinery
Printing Machinery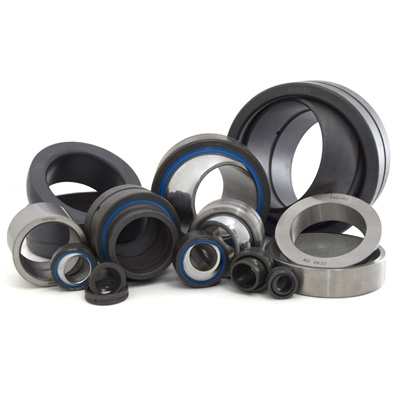 Design
Spherical Plain Bearings are comprised of inner and outer races with spherical sliding surfaces.
These bearings can accommodate heavy radial and axial loads, and are best used at low speeds, as in pivot bearings.
Typically, the races are made of 52100 bearing steel which is hardened, phosphated, and treated with molybdenum disulphide (MoS2) to reduce friction. Most designs allow for lubrication via grease ports in the outer and inner races.
Enduro spherical plain bearings, manufactured to ISO standards, are a complete line: up to 300 mm ID / 430 mm OD.
Enduro can also offer spherical plain bearings with PTFE linings for a maintenance free, low friction option.
Material options include 52100 bearing steel, and other steel options, such as stainless and 4140.
We also offer anti-corrosive coatings.