Application
Primary application for these bearings is as guide rollers,
for the telescopic mast sections in forklifts and related machines.
The bores of mast guide bearings are fitted, as with any standard industrial bearing.
Unlike typical industrial bearings however, the outer diameter of a mast guide bearing
acts directly against a steel mast rail.
Depending upon the design of the mast and fork carriage assembly,
mast guide bearings can be subject to very high radial and thrust loads,
as well as high intermittent shock loads.
Mast guide bearings are intended for low speed, high load applications.
The seals are very tight fitting.
The grease fill is very high, typically over 90%.
The internal design (ball and roller complements) maximizes the load capacity.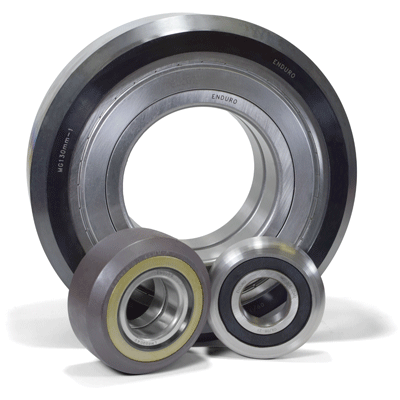 Aftermarket
Enduro mast guide bearings are available in by far the widest range of sizes of any brand.
Our cross reference program covers part numbers made by RBC, McGill, INA, BCA, MRC, NTN, NSK, Koyo/HIC, and others.
We can offer replacement bearings for lift trucks long out of production.
Contact our distributor with any competitor's part number or size; we have what you need.
OE Applications
OE customers can make good use of Enduro's mast guide program.
The entire stock catalog is available for design review.
Additionally, we offer tremendous flexibility for new designs, or variations of existing designs.
Design and Configuration
Custom materials and/or coatings
In addition to standard bearing steel, we have made mast guide bearings in stainless and high heat steels.
We can also offer corrosion resistant coatings, such as black oxide, black phosphate, and galvanized.
Custom greases
We offer a variety of high quality grease best suited to your application from Shell, LE and other leading companies.
Custom sizes and designs
We can make entirely new sizes and designs, for very low minimum quantities, with quick lead times.