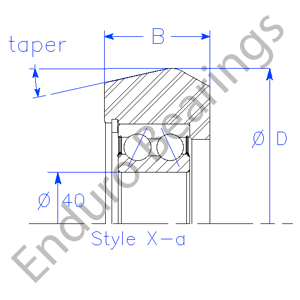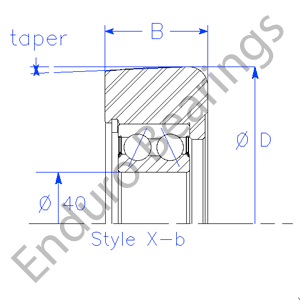 MG 5208 Series Mast Guide Assemblies
These mast guide bearing assemblies are all based on the 5208 2RS-MAX-1 bearing insert.
We can supply custom sizes based on this bearing with short lead times and low annual minimums. Ask our sales engineers about the various materials, OD profiles, etc. for 5208 2RS-MAX-1 based mast guide and chain sheave assemblies.
See our insert bearing page for the complete list of Enduro insert bearings.
Chain sheaves also available with low minimums for custom sizes.
Enduro Part Number
Outside Diameter, D
Outer Ring Width, B
Radius, R
Meter
Misc.
Hyster
Yale
MG 5208 VFF

103.50

mm

44.5

mm

chamfer

MRC 5208‑BTZ1

193557

2200133‑52

MG 5208 VFFA

103.50

mm

42.5

mm

chamfer

MRC 5208‑BTZ2

186711, 1343005

220013411

MG 5208 VFFE

126.75

mm

42.9

mm

20

mm

McGill BB‑1556‑4

327898

MG 5208 VFFP

126.75

mm

42.9

mm

8.5

mm

CU 2604

1333649, 186701

520045370

MG 5208 VFFPA

127.50

mm

42.9

mm

8.5

mm

CU 2604B

1343002

520045371

MG 5208 VFFPB

128.25

mm

42.9

mm

8.5

mm

CU 2604C

1343003

520045372

MG 5208 VFFQ

103.60

mm

42.9

mm

8

mm

CU 2607A

1333648

520045369

MG 5208 VFFQA

104.40

mm

42.9

mm

8

mm

1343010

520045373

MG 5208 VFFQB

105.20

mm

42.9

mm

8

mm

1343011

520045374

MG 5208 VFFQE

103.50

mm

40.8

mm

10.5

mm

CU 3246A

1399200, 1511882

580010275

MG 5208 VFFQH

126.80

mm

45.0

mm

8

mm

302828, 110520

MG 5208 VFFQQ

104.26

mm

40.8

mm

10.5

mm

CU 3246B

1399201, 1511883

580010276, 580031673

MG 5208 VFFQR

105.20

mm

40.8

mm

10.5

mm

CU 3246C

1399202

580010277, 580031674

MG 5208 VFFQU

126.75

mm

42.9

mm

20

mm

CU 3046A

McGill BB‑2082

1399203

580010278

MG 5208 VFFQX

127.30

mm

42.9

mm

8.5

mm

1399204

580010279

MG 5208 VFFQZ

128.40

mm

42.9

mm

8.5

mm

1399205

580010280