Application
Enduro Mast Guide Bearings or Mast Roller Bearings act as guide roller for the telescopic mast in forklifts and similar heavy machinery. We can supply Mast Guide Bearings for nearly every brand of forklift or mast lift truck.
The bores of mast guide bearings are fitted, as with any standard industrial bearing. Unlike typical industrial bearings however, the outer diameter of a mast guide bearing acts directly against a steel mast rail.
Depending upon the design of the mast and fork carriage assembly,
mast guide bearings can be subject to very high radial and thrust loads,
as well as high intermittent shock loads.
Mast guide bearings are intended for low speed, high load applications.
Tight seals and high fill grease (typically >90%) are used to ensure minimal wear and tear and the longest possible lifespan for your components. Resulting in minimal down time for your machinery.
The internal design (ball and roller complements) maximizes the load capacity.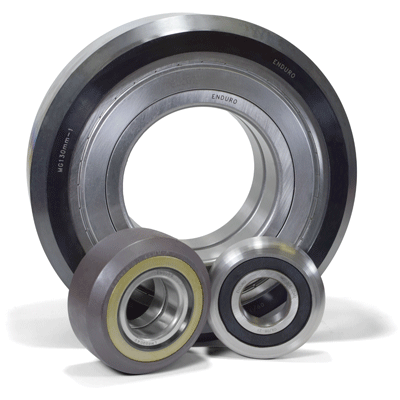 Aftermarket
Enduro Mast Guide Bearings or Mast Roller Bearings are available in a wide range of sizes and are guaranteed to meet or exceed OEM quality.
Our cross reference program has over 300,000 numbers and covers brands such as RBC, McGill, INA, BCA, MRC, NTN, NSK, Koyo/HIC, among many others.
By being directly involved in the manufaturing process, we can offer replacement bearings for limited run or long out of production models.
Contact one of our distribution Centers with any brand's part number or sizing information and our sales team will assist in identifying and/or sourcing the bearing for you. We stock a large variety of bearings and are consistantly expanding our inventory to meet our customer's needs.
OE Applications
Enduro is able to offer OE customers made-to-spec bearings, including custom colors, branding, and part numbers.
The entire inventory is available for design review or modification at the production level.
We offer tremendous flexibility for new designs, or variations of existing designs.
*Minimum order may apply*
Design and Configuration
Custom materials and/or coatings
Models are available in standard, stainless and high heat steel.
Coatings offered include:
Corrosion Resistant Coatings
Black Oxide
Black Phosphate
Galvanized
Custom greases
We offer a variety of high quality grease, from Shell, LE and other leading companies, to best suite your application.
Custom sizes and designs
We regularly produce, import, and export bearings all over the world, and by maintianing relationships with reputable manufacturers we are able to fabricate entirely new sizes and designs, or varaitions of a standard model, with low minimum quantities and shorter lead times.