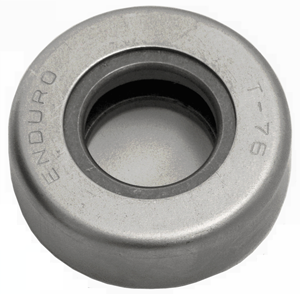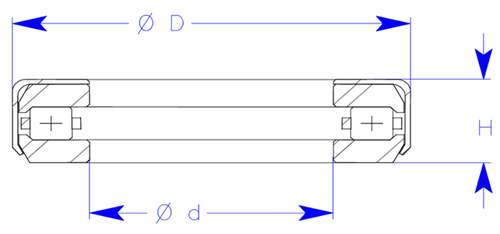 "T" Series Thrust Bearings
These high capacity thrust bearings are a perfect replacement for Timken, NTN, and other brands.
"T" series roller thrust bearings are used in a variety of industries including material handling, heavy equipment, and oilfield equipment.
These bearings are conveniently held together by a steel shroud which both facilitates assembly and protects the rolling elements from contamination.
Additional sizes can be provided with short lead times and low minimums.
Oil hole "W" option is available in all sizes.
Part Number
Inner Diameter, d
Outer Diameter, D
Height, H
T‑0521 VPX1

25

mm

48.

mm

15.

mm

T‑0631 VPX1

28

mm

51.

mm

15.

mm

T‑101

1.0

in

2

in

0.6

in

T‑104

1.0

in

2

in

0.6

in

T‑107

1.0

in

2

in

0.6

in

T‑113

1.1

in

2.1

in

0.6

in

T‑119

1.1

in

2.1

in

0.6

in

T‑126

1.2

in

2.1

in

0.6

in

T‑127

1.2

in

2.6

in

0.7

in

T‑128

1.2

in

2.6

in

0.7

in

T‑135

1.6

in

3

in

0.6

in

T‑138

1.3

in

2.6

in

0.7

in

T‑139

N/A

in

N/A

in

N/A

in

T‑139‑W

1.3

in

2.3

in

0.6

in

T‑149

1.5

in

2.5

in

0.7

in

T‑151

1.5

in

2.8

in

0.8

in

T‑151‑W

1.5

in

2.8

in

0.8

in

T‑152

1.5

in

2.8

in

0.8

in

T‑157‑W

1.5

in

2.8

in

0.8

in

T‑163‑W

1.6

in

2.8

in

0.8

in

T‑169‑W

N/A

in

N/A

in

N/A

in

T‑176

1.7

in

3.2

in

0.9

in

T‑182‑S

1.8

in

3.2

in

0.9

in

T‑188

1.8

in

3.2

in

0.9

in

T‑189

1.8

in

3.2

in

0.9

in

T‑192

N/A

in

N/A

in

N/A

in

T‑194

1.9

in

3.6

in

1.0

in

T‑199

2.0

in

2.9

in

0.6

in

T‑201

2.0

in

3.6

in

1.0

in

T‑201‑W

2.0

in

3.6

in

1.0

in

T‑202

2.0

in

3.6

in

1.0

in

T‑208

2.0

in

3.6

in

1.0

in

T‑251

2.5

in

4.3

in

1.0

in

T‑252

2.5

in

4.3

in

1.0

in

T‑301

3.0

in

5.2

in

1.3

in

T‑302

3.0

in

5.2

in

1.3

in

T‑302‑W

3.0

in

5.2

in

1.3

in

T‑309

3.0

in

4.0

in

0.6

in

T‑350

3.5

in

5.2

in

1.3

in

T‑387

3.8

in

5

in

0.6

in

T‑4020

4.0

in

7.0

in

1.2

in

T‑407 RS

40

mm

72

mm

20

mm

T‑451

4.5

in

9.8

in

2.1

in

T‑581

5.8

in

7

in

0.6

in

T‑611

6

in

12.

in

2.7

in

T‑621

2.5

in

4.1

in

1

in

T‑730

N/A

in

N/A

in

N/A

in

T‑751

8

in

12

in

3

in

T‑76

0.7

in

1.6

in

0.5

in

T‑77

0.7

in

1.6

in

0.5

in

T‑83

0.8

in

1.6

in

0.5

in

T‑88

0.8

in

1.8

in

0.5

in

T‑911

9

in

19

in

4.1

in

T‑94‑W

0.9

in

1.8

in

0.5

in