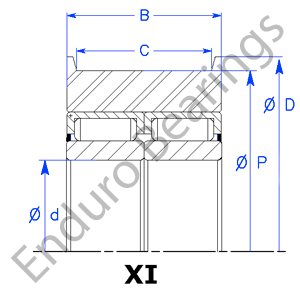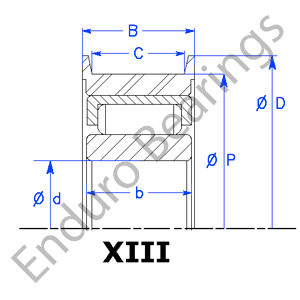 CGA chain sheave assemblies
-Chain sheave assemblies made with MR and MI series roller bearings.
-Compact design with high capacity load ratings.
-Easily modifiable shaft size.
Special order options include:
-Tapered and/or special size bore holes
-Special coatings for various environments
Typical mounting setup. CGA series sheave held in place by two washers.
Part Number
Style
Inner Diameter, d
Outer Diameter, D
P
Inner Ring Width, b
Outer Ring Width, B
C
Dynamic Capacity, Cr.
Static Capacity, Cor.
Weight
CGA 1.750‑a

XIII

1.750

in

4.750

in

4.000

in

1.500

in

1.625

in

1.300

in

38,100

lbf

22,100

lbf

4.80

lb

CGA 1.750‑b

XIII

1.750

in

4.750

in

4.000

in

1.500

in

1.750

in

1.425

in

38,100

lbf

22,100

lbf

4.95

lb

CGA 1.875‑a

XIII

1.875

in

4.625

in

4.000

in

1.750

in

1.960

in

1.625

in

52,100

lbf

26,900

lbf

5.35

lb

CGA 1.875‑b

XI

1.875

in

7.500

in

6.500

in

4.000

in

4.000

in

2.865

in

104,200

lbf

53,800

lbf

36.45

lb

CGA 1.938‑a

XIII

1.938

in

4.625

in

4.000

in

1.750

in

1.960

in

1.625

in

52,100

lbf

26,900

lbf

5.25

lb

CGA 1.938‑b

XI

1.938

in

7.500

in

6.500

in

2.865

in

4.000

in

2.865

in

104,200

lbf

53,800

lbf

36.25

lb

CGA 2.000‑a

XIII

2.000

in

4.625

in

4.000

in

1.750

in

1.960

in

1.625

in

52,100

lbf

26,900

lbf

5.15

lb

CGA 2.000‑b

XI

2.000

in

7.500

in

6.500

in

2.865

in

4.000

in

2.865

in

104,200

lbf

53,800

lbf

36.00

lb

CGA 2.125‑a

XIII

2.125

in

4.625

in

4.000

in

1.750

in

1.960

in

1.625

in

52,100

lbf

26,900

lbf

4.95

lb

CGA 2.125‑b

XI

2.125

in

7.500

in

6.500

in

4.000

in

4.000

in

2.865

in

104,200

lbf

53,800

lbf

35.60

lb

CGA 2.875‑a

XI

2.875

in

8.000

in

7.000

in

4.000

in

4.000

in

2.865

in

197,000

lbf

70,400

lbf

38.40

lb

CGA 2.875‑b

XI

2.875

in

9.000

in

8.000

in

4.000

in

4.000

in

2.865

in

197,000

lbf

70,400

lbf

51.70

lb

CGA 2.938‑a

XI

2.938

in

8.000

in

7.000

in

4.000

in

4.000

in

2.865

in

197,000

lbf

70,400

lbf

38.10

lb

CGA 2.938‑b

XI

2.938

in

9.000

in

8.000

in

4.000

in

4.000

in

2.865

in

197,000

lbf

70,400

lbf

51.40

lb

CGA 3.000‑a

XI

3.000

in

8.000

in

7.000

in

4.000

in

4.000

in

2.865

in

197,000

lbf

70,400

lbf

37.80

lb

CGA 3.000‑b

XI

3.000

in

9.000

in

8.000

in

4.000

in

4.000

in

2.865

in

197,000

lbf

70,400

lbf

51.10

lb

CGA 3.375‑a

XI

3.375

in

8.750

in

7.598

in

4.500

in

4.500

in

3.809

in

187,600

lbf

74,400

lbf

47.30

lb

CGA 3.500‑a

XI

3.500

in

8.750

in

7.598

in

4.500

in

4.500

in

3.809

in

187,600

lbf

74,400

lbf

46.50

lb

CGA 3.500‑b

XI

3.500

in

9.000

in

8.000

in

4.500

in

4.500

in

3.809

in

202,000

lbf

77,200

lbf

52.25

lb

CGA 3.625‑a

XI

3.625

in

9.000

in

8.000

in

4.500

in

4.500

in

3.809

in

202,000

lbf

77,200

lbf

51.35

lb

CGA 3.750‑a

XI

3.750

in

9.000

in

8.000

in

4.500

in

4.500

in

3.809

in

202,000

lbf

77,200

lbf

50.50

lb

CGA 5.000‑a

XI

5.000

in

13.000

in

12.000

in

6.000

in

6.000

in

5.000

in

354,000

lbf

140,800

lbf

157.85

lb