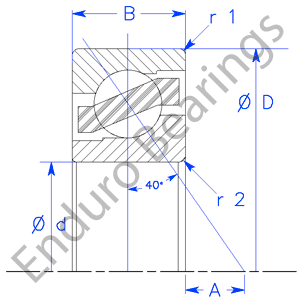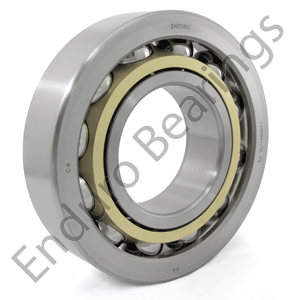 40˚ Angular Contact Ball Bearings P5 & P6 tolerance

P5 & P6 tolerance classes have universally flush ground setup, light preload, and machined brass retainers.
All sizes available in both P5 & P6 tolerance.
15˚ and 25˚ available upon request.
Part Number Legend

B = 40° Contact Angle
M = Machined Brass Cage
U/G = Universally Flush Ground
L = Light Preload
P5 = ABEC 5 Precision Class
P6 = ABEC 3 Precision Class
P6 tolerance class is a perfect replacement for FAG BMPUA and SKF BECBM series bearings.
Part Number
Inner Diameter, d
Outer Diameter, D
Width, B
Outer Ring Backface Radius, r 1
Inner Ring Backface Radius, r 2
Load Center, A
Dynamic Capacity, Cr.
Static Capacity, Cor.
Retainer Material
7204 BMU/GL P5

20

mm

47

mm

14

mm

1.0

mm

0.6

mm

7.5

mm

13,300

N

7,700

N

Brass

7204 BMU/GL P6

20

mm

47

mm

14

mm

1.0

mm

0.6

mm

7.5

mm

13,300

N

7,700

N

Brass

7205 BMU/GL P5

25

mm

52

mm

15

mm

1.0

mm

0.6

mm

8.9

mm

14,000

N

8,700

N

Brass

7205 BMU/GL P6

25

mm

52

mm

15

mm

1.0

mm

0.6

mm

8.9

mm

14,000

N

8,700

N

Brass

7206 BMU/GL P5

30

mm

62

mm

16

mm

1.0

mm

0.6

mm

11.6

mm

19,400

N

12,500

N

Brass

7206 BMU/GL P6

30

mm

62

mm

16

mm

1.0

mm

0.6

mm

11.6

mm

19,400

N

12,500

N

Brass

7207 BMU/GL P5

35

mm

72

mm

17

mm

1.1

mm

0.6

mm

14.4

mm

25,600

N

17,000

N

Brass

7207 BMU/GL P6

35

mm

72

mm

17

mm

1.1

mm

0.6

mm

14.4

mm

25,600

N

17,000

N

Brass

7208 BMU/GL P5

40

mm

80

mm

18

mm

1.1

mm

0.6

mm

16.2

mm

30,600

N

21,300

N

Brass

7208 BMU/GL P6

40

mm

80

mm

18

mm

1.1

mm

0.6

mm

16.2

mm

30,600

N

21,300

N

Brass

7209 BMU/GL P5

45

mm

85

mm

19

mm

1.1

mm

0.6

mm

17.4

mm

34,300

N

24,300

N

Brass

7209 BMU/GL P6

45

mm

85

mm

19

mm

1.1

mm

0.6

mm

17.4

mm

34,300

N

24,300

N

Brass

7210 BMU/GL P5

50

mm

90

mm

20

mm

1.1

mm

0.6

mm

19.6

mm

35,700

N

26,700

N

Brass

7210 BMU/GL P6

50

mm

90

mm

20

mm

1.1

mm

0.6

mm

19.6

mm

35,700

N

26,700

N

Brass

7211 BMU/GL P5

55

mm

100

mm

21

mm

1.5

mm

1.0

mm

22.6

mm

44,100

N

33,800

N

Brass

7211 BMU/GL P6

55

mm

100

mm

21

mm

1.5

mm

1.0

mm

22.6

mm

44,100

N

33,800

N

Brass

7212 BMU/GL P5

60

mm

110

mm

22

mm

1.5

mm

1.0

mm

25.5

mm

53,400

N

41,600

N

Brass

7212 BMU/GL P6

60

mm

110

mm

22

mm

1.5

mm

1.0

mm

25.5

mm

53,400

N

41,600

N

Brass

7213 BMU/GL P5

65

mm

120

mm

23

mm

1.5

mm

1.0

mm

27.3

mm

60,900

N

49,300

N

Brass

7213 BMU/GL P6

65

mm

120

mm

23

mm

1.5

mm

1.0

mm

27.3

mm

60,900

N

49,300

N

Brass

7214 BMU/GL P5

70

mm

125

mm

24

mm

1.5

mm

1.0

mm

28.9

mm

63,200

N

50,600

N

Brass

7214 BMU/GL P6

70

mm

125

mm

24

mm

1.5

mm

1.0

mm

28.9

mm

63,200

N

50,600

N

Brass

7215 BMU/GL P5

75

mm

130

mm

25

mm

1.5

mm

1.0

mm

30.5

mm

71,700

N

59,300

N

Brass

7215 BMU/GL P6

75

mm

130

mm

25

mm

1.5

mm

1.0

mm

30.5

mm

71,700

N

59,300

N

Brass

7216 BMU/GL P5

80

mm

140

mm

26

mm

2.0

mm

1.0

mm

33.2

mm

77,100

N

65,000

N

Brass

7216 BMU/GL P6

80

mm

140

mm

26

mm

2.0

mm

1.0

mm

33.2

mm

77,100

N

65,000

N

Brass

7217 BMU/GL P5

85

mm

150

mm

28

mm

2.0

mm

1.0

mm

35.3

mm

89,200

N

76,000

N

Brass

7217 BMU/GL P6

85

mm

150

mm

28

mm

2.0

mm

1.0

mm

35.3

mm

89,200

N

76,000

N

Brass

7218 BMU/GL P5

90

mm

160

mm

30

mm

2.0

mm

1.0

mm

37.4

mm

102,000

N

88,000

N

Brass

7218 BMU/GL P6

90

mm

160

mm

30

mm

2.0

mm

1.0

mm

37.4

mm

102,000

N

88,000

N

Brass

7219 BMU/GL P5

95

mm

170

mm

32

mm

2.1

mm

1.1

mm

39.6

mm

111,000

N

94,000

N

Brass

7219 BMU/GL P6

95

mm

170

mm

32

mm

2.1

mm

1.1

mm

39.6

mm

111,000

N

94,000

N

Brass

7220 BMU/GL P5

100

mm

180

mm

34

mm

2.1

mm

1.1

mm

42.2

mm

124,000

N

107,000

N

Brass

7220 BMU/GL P6

100

mm

180

mm

34

mm

2.1

mm

1.1

mm

42.2

mm

124,000

N

107,000

N

Brass

7221 BMU/GL P5

105

mm

190

mm

36

mm

2.1

mm

1.1

mm

44.5

mm

135,000

N

121,000

N

Brass

7221 BMU/GL P6

105

mm

190

mm

36

mm

2.1

mm

1.1

mm

44.5

mm

135,000

N

121,000

N

Brass

7222 BMU/GL P5

110

mm

200

mm

38

mm

2.1

mm

1.1

mm

46.9

mm

147,000

N

135,000

N

Brass

7222 BMU/GL P6

110

mm

200

mm

38

mm

2.1

mm

1.1

mm

46.9

mm

147,000

N

135,000

N

Brass

7224 BMU/GL P5

120

mm

215

mm

40

mm

2.1

mm

1.1

mm

50.3

mm

158,000

N

151,000

N

Brass

7224 BMU/GL P6

120

mm

215

mm

40

mm

2.1

mm

1.1

mm

50.3

mm

158,000

N

151,000

N

Brass

7226 BMU/GL P5

130

mm

230

mm

40

mm

3.0

mm

1.1

mm

55.5

mm

177,000

N

180,000

N

Brass

7226 BMU/GL P6

130

mm

230

mm

40

mm

3.0

mm

1.1

mm

55.5

mm

177,000

N

180,000

N

Brass

7228 BMU/GL P5

140

mm

250

mm

42

mm

3.0

mm

1.1

mm

60.8

mm

197,000

N

213,000

N

Brass

7228 BMU/GL P6

140

mm

250

mm

42

mm

3.0

mm

1.1

mm

60.8

mm

197,000

N

213,000

N

Brass

7230 BMU/GL P5

150

mm

270

mm

45

mm

3.0

mm

1.1

mm

65.6

mm

225,000

N

254,000

N

Brass

7230 BMU/GL P6

150

mm

270

mm

45

mm

3.0

mm

1.1

mm

65.6

mm

225,000

N

254,000

N

Brass

7303 BMU/GL P5

17

mm

47

mm

14

mm

1.0

mm

0.6

mm

6.8

mm

13,800

N

7,300

N

Brass

7303 BMU/GL P6

17

mm

47

mm

14

mm

1.0

mm

0.6

mm

6.8

mm

13,800

N

7,300

N

Brass

7304 BMU/GL P5

20

mm

52

mm

15

mm

1.1

mm

0.6

mm

7.6

mm

16,200

N

8,700

N

Brass

7304 BMU/GL P6

20

mm

52

mm

15

mm

1.1

mm

0.6

mm

7.6

mm

16,200

N

8,700

N

Brass

7305 BMU/GL P5

25

mm

62

mm

17

mm

1.1

mm

0.6

mm

9.8

mm

22,900

N

13,300

N

Brass

7305 BMU/GL P6

25

mm

62

mm

17

mm

1.1

mm

0.6

mm

9.8

mm

22,900

N

13,300

N

Brass

7306 BMU/GL P5

30

mm

72

mm

19

mm

1.1

mm

0.6

mm

12.3

mm

27,600

N

17,400

N

Brass

7306 BMU/GL P6

30

mm

72

mm

19

mm

1.1

mm

0.6

mm

12.3

mm

27,600

N

17,400

N

Brass

7307 BMU/GL P5

35

mm

80

mm

21

mm

1.5

mm

1.0

mm

14.0

mm

32,500

N

20,200

N

Brass

7307 BMU/GL P6

35

mm

80

mm

21

mm

1.5

mm

1.0

mm

14.0

mm

32,500

N

20,200

N

Brass

7308 BMU/GL P5

40

mm

90

mm

23

mm

1.5

mm

1.0

mm

15.8

mm

39,700

N

25,200

N

Brass

7308 BMU/GL P6

40

mm

90

mm

23

mm

1.5

mm

1.0

mm

15.8

mm

39,700

N

25,200

N

Brass

7309 BMU/GL P5

45

mm

100

mm

25

mm

1.5

mm

1.0

mm

18.1

mm

50,600

N

34,100

N

Brass

7309 BMU/GL P6

45

mm

100

mm

25

mm

1.5

mm

1.0

mm

18.1

mm

50,600

N

34,100

N

Brass

7310 BMU/GL P5

50

mm

110

mm

27

mm

2.0

mm

1.0

mm

20.9

mm

64,400

N

44,300

N

Brass

7310 BMU/GL P6

50

mm

110

mm

27

mm

2.0

mm

1.0

mm

20.9

mm

64,400

N

44,300

N

Brass

7311 BMU/GL P5

55

mm

120

mm

29

mm

2.0

mm

1.0

mm

22.8

mm

74,300

N

52,000

N

Brass

7311 BMU/GL P6

55

mm

120

mm

29

mm

2.0

mm

1.0

mm

22.8

mm

74,300

N

52,000

N

Brass

7312 BMU/GL P5

60

mm

130

mm

31

mm

2.1

mm

1.1

mm

24.8

mm

84,900

N

60,300

N

Brass

7312 BMU/GL P6

60

mm

130

mm

31

mm

2.1

mm

1.1

mm

24.8

mm

84,900

N

60,300

N

Brass

7313 BMU/GL P5

65

mm

140

mm

33

mm

2.1

mm

1.1

mm

26.7

mm

96,100

N

69,300

N

Brass

7313 BMU/GL P6

65

mm

140

mm

33

mm

2.1

mm

1.1

mm

26.7

mm

96,100

N

69,300

N

Brass

7314 BMU/GL P5

70

mm

150

mm

35

mm

2.1

mm

1.1

mm

28.7

mm

108,000

N

78,900

N

Brass

7314 BMU/GL P6

70

mm

150

mm

35

mm

2.1

mm

1.1

mm

28.7

mm

108,000

N

78,900

N

Brass

7315 BMU/GL P5

75

mm

160

mm

37

mm

2.1

mm

1.1

mm

30.8

mm

118,000

N

89,200

N

Brass

7315 BMU/GL P6

75

mm

160

mm

37

mm

2.1

mm

1.1

mm

30.8

mm

118,000

N

89,200

N

Brass

7316 BMU/GL P5

80

mm

170

mm

39

mm

2.1

mm

1.1

mm

32.9

mm

127,000

N

100,000

N

Brass

7316 BMU/GL P6

80

mm

170

mm

39

mm

2.1

mm

1.1

mm

32.9

mm

127,000

N

100,000

N

Brass

7317 BMU/GL P5

85

mm

180

mm

41

mm

3.0

mm

1.1

mm

35.1

mm

137,000

N

112,000

N

Brass

7317 BMU/GL P6

85

mm

180

mm

41

mm

3.0

mm

1.1

mm

35.1

mm

137,000

N

112,000

N

Brass

7318 BMU/GL P5

90

mm

190

mm

43

mm

3.0

mm

1.1

mm

37.2

mm

148,000

N

124,000

N

Brass

7318 BMU/GL P6

90

mm

190

mm

43

mm

3.0

mm

1.1

mm

37.2

mm

148,000

N

124,000

N

Brass

7319 BMU/GL P5

95

mm

200

mm

45

mm

3.0

mm

1.1

mm

39.4

mm

158,000

N

137,000

N

Brass

7319 BMU/GL P6

95

mm

200

mm

45

mm

3.0

mm

1.1

mm

39.4

mm

158,000

N

137,000

N

Brass

7320 BMU/GL P5

100

mm

215

mm

47

mm

3.0

mm

1.1

mm

43.2

mm

168,000

N

148,000

N

Brass

7320 BMU/GL P6

100

mm

215

mm

47

mm

3.0

mm

1.1

mm

43.2

mm

168,000

N

148,000

N

Brass

7321 BMU/GL P5

105

mm

225

mm

49

mm

3.0

mm

1.1

mm

44.7

mm

191,000

N

177,000

N

Brass

7321 BMU/GL P6

105

mm

225

mm

49

mm

3.0

mm

1.1

mm

44.7

mm

191,000

N

177,000

N

Brass

7322 BMU/GL P5

110

mm

240

mm

50

mm

3.0

mm

1.1

mm

49.6

mm

213,000

N

208,000

N

Brass

7322 BMU/GL P6

110

mm

240

mm

50

mm

3.0

mm

1.1

mm

49.6

mm

213,000

N

208,000

N

Brass