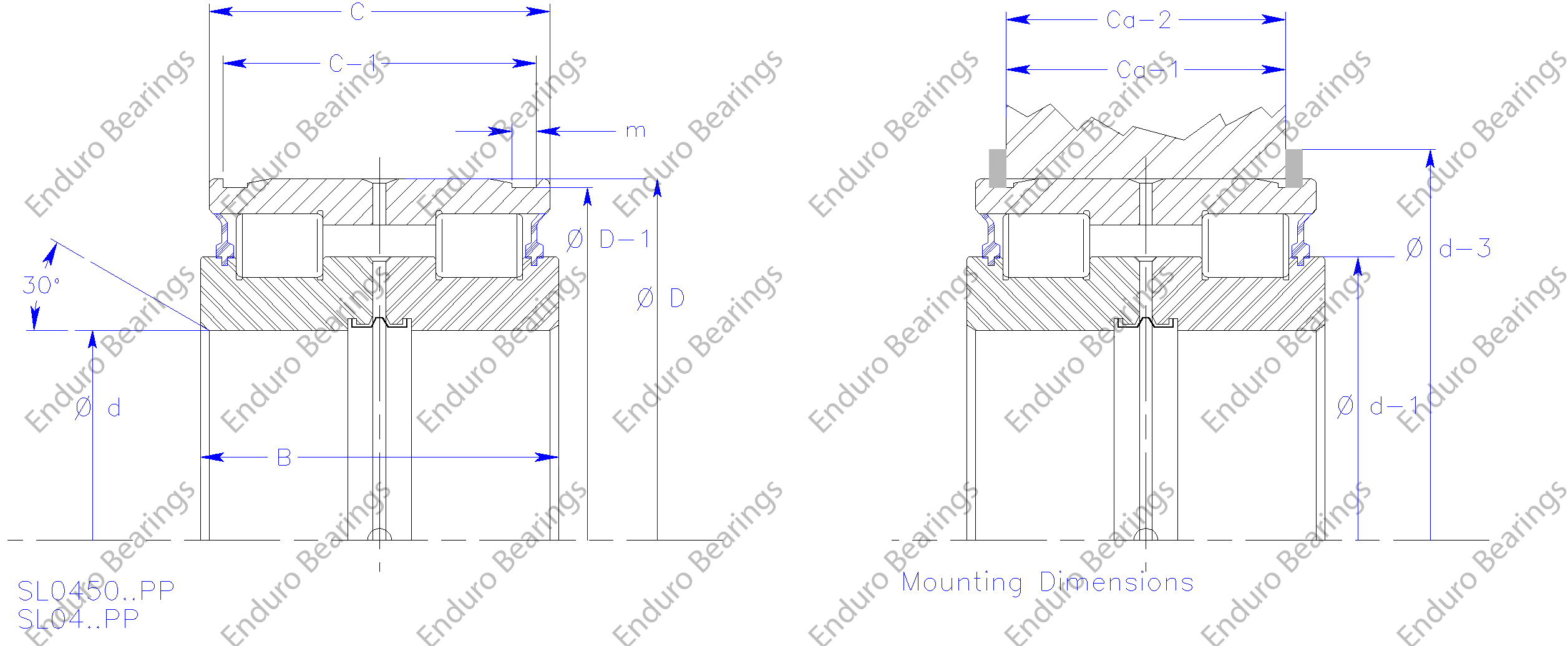 Double Row Sheave Bearing
Self-contained – Unlike most cylindrical roller bearings, SL04 series are self-contained by the unique spring steel fastening ring, which holds the paired inner races together. This fastening ring serves to hold the bearing together until it is mounted and loaded on its shaft or pin.
Sealed – The urethane seals keep contaminants out and allow grease to be purged upon relubrication.
Relubricable – This bearing can be relubed either through the inner or outer races.
External Snap Ring Grooves – These are convenient for mounting any type of housing for use as a mast roller, track roller, pulley, sheave, etc.
High Capacity – Double row roller complement means very high dynamic and static load ratings.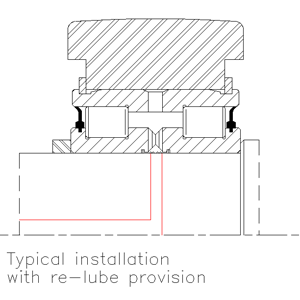 In addition to the bearing we can supply any type of wheel, sheave, pully, etc. Typical 4140 material or per your spec. Please contact us for more details. We can work with large or small quantities.

Part Number
Inner Diameter, d
Outer Diameter, D
Inner Ring Width, B
Outer Ring Width, C
Width between Snap Ring Grooves, C-1
Outer Diameter of Inner Ring, Ø d-1
Outer Diameter of Snap Ring Groove Ø D-1
Snap Ring Groove Width, m
Ca1
Ca1 Snap Ring
Ca2
Ca2 Snap Ring
M2400 Snap Ring
OD of WRE ring, d-3
Dynamic Capacity, Cr.
Static Capacity, Cor.
Weight
Alternate Part Number
SL04 130 PP

130

mm

190

mm

80

mm

79

mm

71.2

mm

151.0

mm

186.0

mm

4.2

mm

65 mm

WRE190

63 mm

471‑190

M2400‑190

206 mm

425,000

N

790,000

N

16.53

lb

SL04 140 PP

140

mm

200

mm

80

mm

79

mm

71.2

mm

160.5

mm

196.0

mm

4.2

mm

65 mm

WRE200

63 mm

471‑200

M2400‑200

216 mm

445,000

N

850,000

N

17.64

lb

SL04 150 PP

150

mm

210

mm

80

mm

79

mm

71.2

mm

170.0

mm

206.0

mm

5.2

mm

65 mm

WRE210

61 mm

471‑210

M2400‑210

226 mm

472,000

N

920,000

N

18.52

lb

SL04 160 PP

160

mm

220

mm

80

mm

79

mm

71.2

mm

184.5

mm

216.0

mm

5.2

mm

65 mm

WRE220

61 mm

471‑220

M2400‑220

236 mm

480,000

N

970,000

N

19.40

lb

SL04 170 PP

170

mm

230

mm

80

mm

79

mm

71.2

mm

194.0

mm

226.0

mm

5.2

mm

65 mm

WRE230

61 mm

471‑230

M2400‑230

250 mm

500,000

N

1,000,000

N

20.50

lb

SL04 180 PP

180

mm

240

mm

80

mm

79

mm

71.2

mm

203.5

mm

236.0

mm

5.2

mm

65 mm

WRE240

61 mm

471‑240

M2400‑240

260 mm

500,000

N

1,080,000

N

21.61

lb

SL04 190 PP

190

mm

260

mm

80

mm

79

mm

73.2

mm

218.0

mm

254.0

mm

5.2

mm

65 mm

WRE260

63 mm

471‑260

M2400‑260

282 mm

520,000

N

1,130,000

N

28.00

lb

SL04 200 PP

200

mm

270

mm

80

mm

79

mm

73.2

mm

227.5

mm

264.0

mm

5.2

mm

65 mm

WRE270

63 mm

471‑270

M2400‑270

292 mm

540,000

N

1,210,000

N

29.10

lb

SL04 220 PP

220

mm

300

mm

95

mm

94

mm

83.2

mm

249.0

mm

294.0

mm

5.2

mm

75 mm

WRE300

73 mm

471‑300

M2400‑300

322 mm

720,000

N

1,590,000

N

42.99

lb

SL04 240 PP

240

mm

320

mm

95

mm

94

mm

83.2

mm

272.0

mm

314.0

mm

6.3

mm

75 mm

WRE320

71 mm

471‑320

M2400‑320

346 mm

740,000

N

1,710,000

N

46.30

lb

SL04 260 PP

260

mm

340

mm

95

mm

94

mm

83.2

mm

293.0

mm

334.0

mm

6.3

mm

75 mm

WRE340

71 mm

471‑340

M2400‑340

366 mm

850,000

N

2,010,000

N

49.60

lb

SL04 280 PP

280

mm

360

mm

95

mm

94

mm

83.2

mm

310.5

mm

354.0

mm

6.3

mm

mm

870,000

N

2,130,000

N

52.91

lb

SL04 300 PP

300

mm

380

mm

95

mm

94

mm

83.2

mm

328.5

mm

374.0

mm

6.3

mm

75 mm

WRE380

71 mm

471‑380

M2400‑380

493 mm

900,000

N

2,260,000

N

56.22

lb

SL04 5004 PP

20

mm

42

mm

30

mm

29

mm

24.7

mm

31.0

mm

40.0

mm

1.8

mm

21.5 mm

WRE42

21 mm

471‑042

M2400‑042

47 mm

41,500

N

50,000

N

0.44

lb

NNF 5004 ADA 2LSV

SL04 5005 PP

25

mm

47

mm

30

mm

29

mm

24.7

mm

35.5

mm

44.8

mm

1.8

mm

21.5 mm

WRE47

21 mm

471‑047

M2400‑047

52 mm

45,500

N

59,000

N

0.53

lb

NNF 5005 ADA 2LSV

SL04 5006 PP

30

mm

55

mm

34

mm

33

mm

28.2

mm

41.0

mm

52.8

mm

2.1

mm

25 mm

WRE55

24 mm

471‑055

M2400‑055

60 mm

52,000

N

69,000

N

0.82

lb

NNF 5006 ADA 2LSV

SL04 5007 PP

35

mm

62

mm

36

mm

35

mm

30.2

mm

46.5

mm

59.8

mm

2.1

mm

27 mm

WRE62

26 mm

471‑062

M2400‑062

67 mm

64,800

N

108,500

N

1.06

lb

NNF 5007 ADA 2LSV

SL04 5008 PP

40

mm

68

mm

38

mm

37

mm

32.2

mm

51.5

mm

65.8

mm

2.7

mm

28 mm

WRE68

27 mm

471‑068

M2400‑068

75 mm

80,000

N

120,000

N

1.23

lb

NNF 5008 ADA 2LSV

SL04 5009 PP

45

mm

75

mm

40

mm

39

mm

34.2

mm

57.5

mm

72.8

mm

2.7

mm

30 mm

WRE75

29 mm

471‑075

M2400‑075

82 mm

98,000

N

141,000

N

1.54

lb

NNF 5009 ADA 2LSV

SL04 5010 PP

50

mm

80

mm

40

mm

39

mm

34.2

mm

62.0

mm

77.8

mm

2.7

mm

30 mm

WRE80

29 mm

471‑080

M2400‑080

87 mm

103,000

N

154,000

N

1.68

lb

NNF 5010 ADA 2LSV

SL04 5011 PP

55

mm

90

mm

46

mm

45

mm

40.2

mm

69.0

mm

87.4

mm

3.2

mm

35 mm

WRE90

34 mm

471‑090

M2400‑090

99 mm

119,500

N

195,000

N

2.60

lb

NNF 5011 ADA 2LSV

SL04 5012 PP

60

mm

95

mm

46

mm

45

mm

40.2

mm

74.0

mm

92.5

mm

3.2

mm

35 mm

WRE95

34 mm

471‑095

M2400‑095

104 mm

149,500

N

251,000

N

2.78

lb

NNF 5012 ADA 2LSV

SL04 5013 PP

65

mm

100

mm

46

mm

45

mm

40.2

mm

79.0

mm

97.4

mm

3.2

mm

35 mm

WRE100

34 mm

471‑100

M2400‑100

109 mm

164,000

N

262,000

N

2.93

lb

NNF 5013 ADA 2LSV

SL04 5014 PP

70

mm

110

mm

54

mm

53

mm

48.2

mm

85.0

mm

107.1

mm

4.2

mm

43 mm

WRE110

40 mm

471‑110

M2400‑110

119 mm

180,000

N

275,000

N

4.12

lb

NNF 5014 ADA 2LSV

SL04 5015 PP

75

mm

115

mm

54

mm

53

mm

48.2

mm

90.0

mm

112.1

mm

4.2

mm

43 mm

WRE115

40 mm

471‑115

M2400‑115

124 mm

198,000

N

305,000

N

4.32

lb

NNF 5015 ADA 2LSV

SL04 5016 PP

80

mm

125

mm

60

mm

59

mm

54.2

mm

97.5

mm

122.1

mm

4.2

mm

49 mm

WRE125

46 mm

471‑125

M2400‑125

137 mm

205,000

N

350,500

N

5.97

lb

NNF 5016 ADA 2LSV

SL04 5016‑72 PP

72

mm

125

mm

60

mm

59

mm

54.2

mm

97.5

mm

122.1

mm

4.2

mm

49 mm

WRE125

46 mm

471‑125

M2400‑125

137 mm

205,000

N

350,500

N

5.97

lb

NNF 5016‑72 ADA 2LSV

SL04 5017 PP

85

mm

130

mm

60

mm

59

mm

54.2

mm

104.5

mm

127.1

mm

4.2

mm

49 mm

WRE130

46 mm

471‑130

M2400‑130

142 mm

215,000

N

360,000

N

6.24

lb

NNF 5017 ADA 2LSV

SL04 5018 PP

90

mm

140

mm

67

mm

66

mm

59.2

mm

109.5

mm

137.0

mm

4.2

mm

54 mm

WRE140

51 mm

471‑140

M2400‑140

152 mm

312,500

N

544,000

N

8.18

lb

NNF 5018 ADA 2LSV

SL04 5019 PP

95

mm

145

mm

67

mm

66

mm

59.2

mm

113.5

mm

142.0

mm

4.2

mm

54 mm

WRE154

51 mm

471‑145

M2400‑145

157 mm

315,000

N

560,000

N

8.55

lb

NNF 5019 ADA 2LSV

SL04 5020 PP

100

mm

150

mm

67

mm

66

mm

59.2

mm

118.0

mm

147.0

mm

4.2

mm

54 mm

WRE150

51 mm

471‑150

M2400‑150

162 mm

330,000

N

580,000

N

8.71

lb

NNF 5020 ADA 2LSV

SL04 5022 PP

110

mm

170

mm

80

mm

79

mm

70.2

mm

132.0

mm

167.0

mm

4.2

mm

65 mm

WRE170

62 mm

471‑170

M2400‑170

182 mm

400,000

N

690,000

N

14.48

lb

NNF 5022 ADA 2LSV

SL04 5024 PP

120

mm

180

mm

80

mm

79

mm

71.2

mm

141.5

mm

176.0

mm

4.2

mm

65 mm

WRE180

63 mm

471‑180

M2400‑180

196 mm

457,700

N

870,000

N

15.52

lb

NNF 5024 ADA 2LSV

SL04 5026 PP

130

mm

200

mm

95

mm

94

mm

83.2

mm

157.0

mm

196.0

mm

4.2

mm

77 mm

WRE200

75 mm

471‑200

M2400‑200

216 mm

550,000

N

980,000

N

23.15

lb

NNF 5026 ADA 2LSV

SL04 5028 PP

140

mm

210

mm

95

mm

94

mm

83.2

mm

165.5

mm

206.0

mm

5.2

mm

77 mm

WRE210

73 mm

471‑210

M2400‑210

226 mm

630,000

N

1,120,000

N

24.47

lb

NNF 5028 ADA 2LSV

SL04 5030 PP

150

mm

225

mm

100

mm

99

mm

87.2

mm

176.0

mm

221.0

mm

5.2

mm

81 mm

WRE225

77 mm

471‑225

M2400‑225

245 mm

700,000

N

1,270,000

N

29.32

lb

NNF 5030 ADA 2LSV

SL04 5032 PP

160

mm

240

mm

109

mm

108

mm

95.2

mm

189.5

mm

236.0

mm

5.2

mm

89 mm

WRE240

85 mm

471‑240

M2400‑240

260 mm

721,000

N

1,410,000

N

36.38

lb

NNF 5032 ADA 2LSV

SL04 5034 PP

170

mm

260

mm

122

mm

121

mm

107.2

mm

201.0

mm

254.0

mm

5.2

mm

99 mm

WRE260

97 mm

471‑260

M2400‑260

282 mm

935,000

N

1,800,000

N

49.60

lb

NNF 5034 ADA 2LSV

SL04 5036 PP

180

mm

280

mm

136

mm

135

mm

118.2

mm

218.0

mm

274.0

mm

5.2

mm

110 mm

WRE280

108 mm

471‑280

M2400‑280

302 mm

1,080,000

N

2,130,000

N

66.14

lb

NNF 5036 ADA 2LSV

SL04 5038 PP

190

mm

290

mm

136

mm

135

mm

118.2

mm

226.5

mm

284.0

mm

5.2

mm

110 mm

WRE290

108 mm

471‑290

M2400‑290

312 mm

110,000

N

2,210,000

N

69.45

lb

NNF 5038 ADA 2LSV

SL04 5040 PP

200

mm

310

mm

150

mm

149

mm

128.2

mm

243.5

mm

304.0

mm

6.3

mm

120 mm

WRE310

116 mm

471‑310

M2400‑310

336 mm

1,340,000

N

2,870,000

N

92.59

lb

NNF 5040 ADA 2LSV

SL04 5044 PP

220

mm

340

mm

160

mm

159

mm

138.2

mm

260.5

mm

334.0

mm

6.3

mm

130 mm

WRE340

126 mm

471‑340

M2400‑340

366 mm

1,510,000

N

3,130,000

N

117.95

lb

NNF 5044 ADA 2LSV

SL04 5048 PP

240

mm

360

mm

160

mm

159

mm

138.2

mm

279.5

mm

354.0

mm

6.3

mm

130 mm

WRE360

126 mm

471‑360

M2400‑360

386 mm

1,570,000

N

3,310,000

N

126.77

lb

NNF 5048 ADA 2LSV

SL04 5052 PP

260

mm

400

mm

190

mm

189

mm

162.2

mm

305.5

mm

394.0

mm

6.3

mm

154 mm

WRE400

150 mm

471‑400

M2400‑400

426 mm

2,380,000

N

4,700,000

N

186.29

lb

NNF 5052 ADA 2LSV

SL04 5056 PP

280

mm

420

mm

190

mm

189

mm

163.2

mm

321.5

mm

413.0

mm

7.3

mm

154 mm

WRE420

149 mm

471‑420

M2400‑420

453 mm

2,600,000

N

5,200,000

N

198.42

lb

NNF 5056 ADA 2LSV

SL04 5060 PP

300

mm

460

mm

218

mm

216

mm

185.2

mm

347.5

mm

453.0

mm

7.3

mm

75 mm

WRE460

mm

471‑460

M2400‑460

406 mm

3,000,000

N

5,900,000

N

277.78

lb

NNF 5060 ADA 2LSV